This covers just the museums I saw on my drive to Texas (five days on the road) and back (four days). I don't think that blogs should always be ranking things, but I'm doing it here.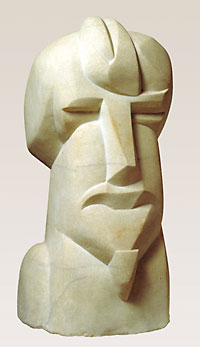 1. Nasher Sculpture Center, Dallas, TX. I had always thought that Henri Gaudier-Brzeska's
Hieratic Head of Ezra Pound
was in a private collection somewhere and I would never see it. The first part is true but this collection is now public. I wish the sculpture were positioned against a blank wall instead of a window so that I could look at it better, but as it is you can look at its back, which looks like nothing but a sculpture of a penis, see on the corner of your left eye Picasso's equally totemic Marie-Therese, and across the room make out Miro's feminine
Caress of a Bird
. Don't mess with Texas!
As is the case with
an outdoor Serra in Fort Worth
, the Texas sky is put to use by a James Terrell installation which frames it in a square sitting room. Angry post-WW2 David Smiths, two Jonathan Borofskys: one that can be seen from the outside of people walking into the sky and another of the Hammering Man series that frames actual crane construction nearby, Dubuffet's
The Gossiper
, a Barbara Hepworth fountain, Giaciamotti drawings, and I'd say this joins the new National Gallery sculpture garden as besting previous sculpture gardens in this large and prosperous land, this one being the more unforgettable of experiences.
2. Saint Louis Museum of Art. Construction was going on and my only criticism of this free museum is that there is not enough space. This is one of those places where everything is a masterpiece. Has two of Van Gogh's last paintings in Auvers. The Beckmann collection is without equal in this hemisphere, but only one room is devoted to him, others, I presume, are in storage, and the pickings tend to privilege studies over allegories. Beckmann's contemporary compatriots are well represented along with a spirited effort of keeping the new Teutonic canvases coming to St Louis.
3. Mattress Factory, Pittsburgh, PA. This is the granddaddy of the warehouse museum concept that went onto physically bigger things at Dia Beacon and Mass MOCA, but the curating here is still unmatched by the new kids. A wonderful permanent Turrell installation that takes twenty minutes to be seen. In residence are Huang Xiang, a poet banned and persecuted in China that speaks no English (I tried) who painted a poem on his house (pictured, MF in background), and the
Tom Museum
, where you visit the house of twentysomething artist Tom Sarver with the amiable artist hosting you. Free parking, which is something the Warhol and the Carnegie don't have.
4. Dallas Museum of Art. Saw this on the way there, and Ft. Worth on the way back. On my previous trip to Texas, I had skipped Dallas for Ft. Worth. This is nonetheless chock full of masterpieces and has good temporary shows like a Russian modernist book show when I was there. Really wonderful early Mondrian landscapes. Design flaw is the lack of a central hall that forces you to see the whole museum in sequence, and the Reves Collection that puts major impressionist paintings across a blocked off period room which calls attention to the opulence and keeps you from a close inspection of the masterpieces. This is the monkey on the back of Texas art, that it functions to show off money and the cosmopolitanism of collectors and has to stop there.
5. Kimbell Gallery, Fort Worth, TX. This is a great, free, small museum, though the building commonly called Louis Kahn's masterpiece is one of those layouts that puts the architect's ego behind only the prominence of the gift shop, followed by showing paintings at a distant third. Every painting is a masterpiece and the budget is so hard to contemplate that more gallery space would surely offer a lot more to look at, especially for the locals.
One of my favorite Watteaus
to go with
my favorite Caravaggio
and
an early Gaughin self-portrait (pictured) painted for his new friend Van Gogh.
6. Cincinnati Museum of Art. Like St. Louis, it's free, with free parking in a wonderful park, and has a bunch of Van Goghs from his last year. Major John Singer Sargents.
7. Gilcrease Museum, Tulsa, OK. The best of the three Western Art Museums I saw. Western art museums have a lot of Remington and Russells and Native American art, with a section on the Taos school of which they try to reproduce a period workshop. This one is free, has the most paintings, and is surrounded by colorful gardens.
8. Philbrook Museum of Art, Tulsa, OK. In a incredibly opulent section of town, the background gardens here that highlight the Palladian Mediterranean villa are arguably without equal in this country. Collection minor.
9. Carnegie Museum of Art, Pittsburgh, PA. Rather irritating design but a well-financed collection with a major Munch, a few major Gaughins & Van Goghs, and a good contemporary collection with many of the usual suspects. One unique feature is John White Alexander's 1905 mural
The Crowning of Labor
, commissioned by Andrew Carnegie for a fat sum to illustrate his views, which predates the age of populist murals and does so with an Art Nouveau allegorical look that vacillates between the sublime and the silly.
10. Museum of Modern Art, Fort Worth, TX.
A truly wonderful building by Tadeo Ando
which frames the skyline, its pools of water, and provides square-shaped rooms for this collection of mostly contemporary paintings.
11. Eiteljorg Museum of American Indians and Western Art, Indianapolis, IN. Costs admission and parking but has especially good display of the Taos school and had an excellent exhibition of contemporary Native American art up for a while.
12. Indianapolis Museum of Art. I was all set to see the Turners, and no, they weren't up. I tried to arrange a warehouse visit, but got the runaround. The female guard that initially broke the news to me said, 'We have a Rembrandt show, and he's European.' Truly, showing the art of a foreigner is big stuff in this museum across from the Lilly mansion that's only concession to the world out there an unfortunate architectural resemblance to a fading 1970s Brazilian office complex. A Nam June Paik that was commissioned by the state ergo the images of Larry Bird flickering on the TV sets. A wonderful Acconci.
13. Mexic-Arte Museum, Austin, TX. Well curated temporary shows, including the
fandango show
I excerpted earlier.
14. Blanton Museum of Art, Austin, TX. This is being renovated into a big thang and only half of the place was open when I visited. Specializes in the Western Hemisphere and as such its strengths are a few choice Argentinian works like Luis Felipe Noé's 1963 Nueva Figuración canvas (below)
Cerrado por brujeria (Closed for Witchcraft),
the best painting about TV I can recall ever seeing, and Mexican muralist-era prints. The rest of the collection is minor and uninspired.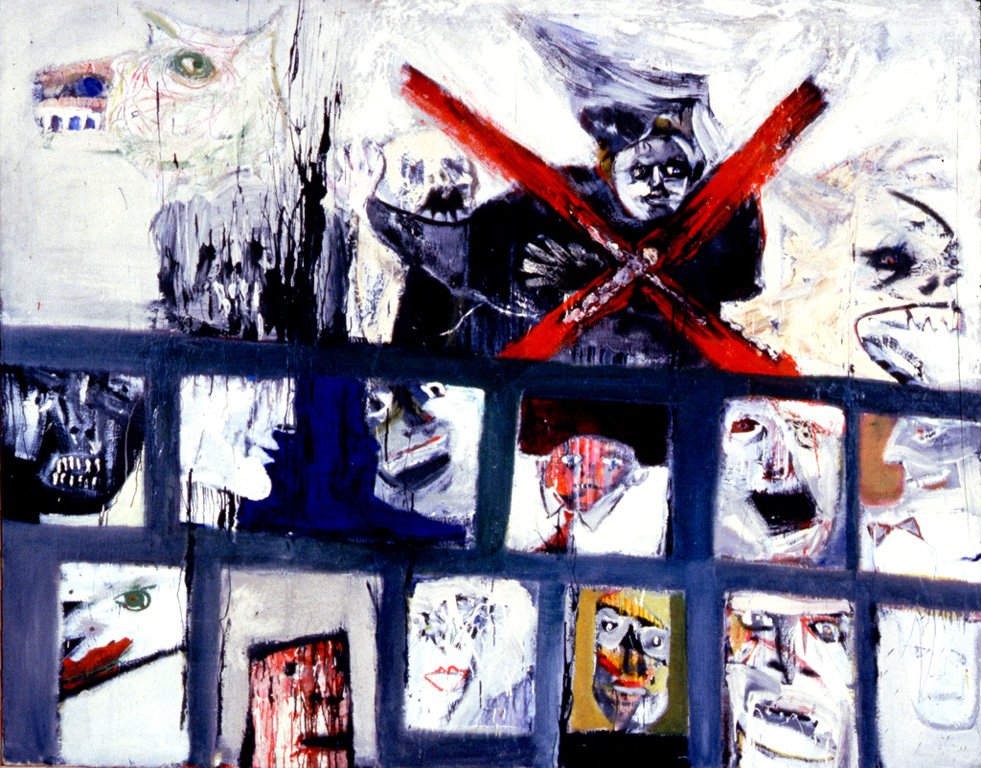 15. Amon Carter Museum, Fort Worth, TX. Yet another museum in Fort Worth, yet another museum of Western art and the Taos school. Free and is right next to the other two museums if you are in Fort Worth. I was the only person on a tour with a very knowledgeable and gregarious tour guide and had to break the news that I had to leave to meet someone at the Kimbell coffee shop, a heartbreaking moment.
16. The Trammell & Margaret Crow Collection of Asian Art, Dallas, TX. Asian gems right next to the Nasher and the DMA. If 'the world's largest landlord' has a museum named after himself in his building, it had better be free, and it is.


17. Swope Art Museum, Terre Haute, IN. This small, free collection across from a charming old movie theater had as its first curator John Rogers Cox, an American 'regionalist' influenced by the Surrealists (pictured, a painting of his in Cleveland).
18. Five Civilized Tribes Museum, Muskogee, OK. Display of local contemporary Native American artists starring Johnny Tiger.

19. Contemporary Gallery, Harmony, IN. Trotsky said Utopia wouldn't need art, and it's a good thing, because this isn't for those in need.