Piri' Miri Muli' can confirm that Robert Morris' labyrinth will be
at Sonnebend
throughout the summer, irrespective of what else is showing there, and that any bird feathers found in it have not been placed there by humans.
Not to be outdone, Galerie
Lelong has
for the remainder of the week Hélio Oiticica's labyrinthine 1972 installation
Penetrável Filtro,
which seems to have predated by a year Morris' first labyrinth tho both are likely influenced by Robert Smithson's 1970
Spiral Jetty.
Oiticica was at the time staying in the US, exiled from
Brazil's suspension of habeas corpus
: for a while in New York, later a guest of Roman Jakobson's at Cambridge, while his friend Haroldo de Campos was teaching in Buffalo. de Campos' poem
Galaxias
comes out of a speaker next to a speaker featuring Gertrude Stein's
The Making of Americans
, before Oiticica's posthumous instructions, displayed in the next gallery, stipulate that local TV and radio is on display further into the labyrinth along with a colorful complimentary punch. Lelong selected tasty orange juice after a careful review of the color scheme.
Tropicália,
a
Penetrável
shown
in the Bronx Museum in 2006
, was his first hit in Brazil, giving Gilberto Gil and Caetano Veloso
the name
for their music movement, but Oiticica didn't want his New York work to have quaint symbols of Brazil like
Tropicália's
live macaws.
The show includes one of his first
Penetrável
works from 1960, soon after he had abandoned two dimensional gouaches in the style of Mondrian. Rio's Neo-Concretists had broken from their dogmatic São Paulo counterparts, and while the geometry of Brazilian concretism reflects a faith in scientific progress, the Neo-Concretists took an interest in Merleau-Ponty's somatic theory, often incorporating the audience into the work. Terry Eagleton writes of this phase of somatics
The first body book of our era is Maurice Merleau-Ponty's Phenomenology of Perception; but this, with its humanist sense of the body as practice and project, is now distinctly passé. The shift from Merleau-Ponty to Foucault is one from the body as relation to the body as object. For Merleau-Ponty, the body is where something is being done; for the new somatics, the body is where something - gazing, imprinting, regimenting - is being done to you. It used to be called alienation, but that implies existence of an interiority to be alienated - a proposition of which somatic criticism is deeply skeptical
Morris quotes Smithson: "the first bad body art was the Crucifixion."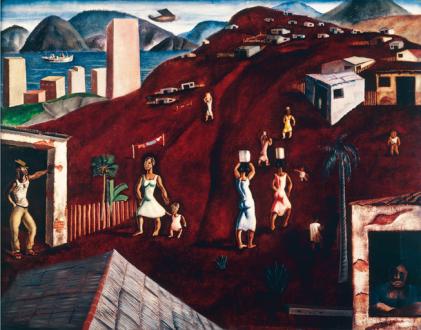 Oiticica's grandfather was the renowned Rio anarchist José Oiticica, his father an entomologist who dabbled in painting and photography and died in 1964, the year of
Brazil's military coup
. That year, Oiticica moved into Rio's rough
Morro de Mangueira
(right,
Candido Portinari's
1933 "O Morro") making carnival costumes there (his "Parangoles") after an initially difficult initiation phase. Neo-Concretist sculptor
Lygia Pape
said "Helio was
a young Apollonian
, even a little pedantic, who worked with his father in the documentation of the National Museum, where he learned a methodology: it was very organized and disciplined. In 1964, his father died. A friend of ours took Helio to the Morro. It was there that he found a Dionysian space he had no knowledge or experience of... he began to incorporate the experience of the Morro.. the barriers of bourgeois culture broke there.. it's as if he were another Helio, Helio's a "Morro", which invaded everything: his home, his life and his work."
The aura of the Morro was evoked this Spring at DC's Hirshhorn with an room devoted to Oiticica's "Cosmococa," conceived in collaboration with veteran filmmaker Neville D'Almeida, projecting for an audience, visibly grateful to be lying on mattresses with nail files, white lines emanating from the eye of Bunuel on the cover of the New York Times and white lines emanating from a man wearing one of his Parangoles sacks, to the soundtrack of Hendrix and traditional Brazilian music, apparently referencing the allegory of sight at the beginning of
Un Chien Andalou
in the center of sensory dimensions of the installation. The Lelong show also features 1979's
Penetrável PN28 "Nas Quebradas,"
(left)
in which the visitor is invited to slide down a hill of crushed stone to evoke the pathways of the favela. The geometry of Concretism is always somewhere present, suggesting an unreal locale amid the places referenced and the anarchic function of the spectator.
For those who didn't lose interest in easel painting by masters after the geometric decrees of the 1950s São Paolo Concretists' "10 Year Plan," especially painting with an "existence of an interiority to be alienated," get thee to the Carlyle, enter on the Madison side (no. 981 tween 76th and 77th), and make thy way up the steps to the right for a wonderful André Masson retrospective drawn from private collections, one of the best gallery shows up this decade, holding its own against
John Richardson's latest Picasso show
across the street with canvases of and by Françoise Gilot as well as Picasso's ceramics from Vallauris and some improvised sculptures, which if you check out (til June 30) don't forget to get off at the 3rd floor for Venus Over Manhattan's spooky
JK Huysmans tribute
(also til Jun 30) which includes a Gustave Moreau, Henry Fuseli's "Fairy Mab
,"
Redon charcoals and graphites.
Dana Schutz' "Building a Boat While Sailing" is up at
her Petzel debut
for the rest of the week (535 w 22nd).
On the W side of 24th, Clemente packs as many inspired canvases as possible in Boone's space (til June 30) while many, many Lucio Fontanas are accommodated next door. South
to Zwirner
, Yan Pei-Ming more than pulls off his art history referentiality.