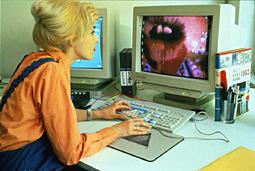 Do I experience more irony than history? Do I desire irony more than I desire history?
This evening I have initially misread "history" as "irony" in the video inscription on
Pipilotti Rist's
lips in the lower right hand corner of "Suburb Brain":
Three thousand years of philosophical history,
brother brother I recognize myself again,
physics and ethics. Back to these three.

Be sure to click on "Selfless in the Bath of Lava" and to run one's cursor over "Himalaya Sister's Living Room," "I Can't Agree With You More," and the Mythenquai series.